The Perfect Frame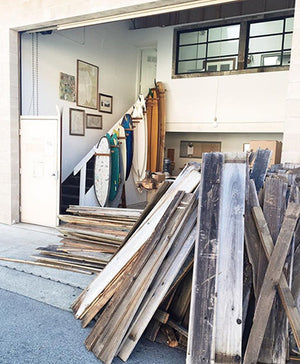 The stamp that time and exposure puts on wood is beauty and one of a kind. Whether it's sand stuck in the grains of the wood, barnacles growing in a rusty hole in which a half inch lag bolt used to live or an old white wash thats flaking away leaving room for lichens and bleaching only the sun can do. It's what makes the frames we use so special and it's why I'm taking the time to write this. 
Harvest
Harvesting usable weathered lumber doesn't come easy. For my larger giclee's or originals I'm constantly beach combing the shores from Big Sur to Mendocino or looking for abandoned wood piles off the back roads of Santa Cruz County. Often when I'm hiking down the beach to one of my favorite surf spots, I'll be on the lookout for wood that's been washed ashore during a storm. It's not uncommon to see me dragging back old beat up 4x4"s after a surf. Nor is it uncommon for me to knock on a door and ask if I can haul that "old wood pile" away. I've ended up with a pretty nice rack of lumber that, for the right painting or gicleé, will harmonize with the art perfectly.  
Teamwork
The majority of our smaller production frames come from a small locally owned business called Alibi Interiors. I'm very happy to call the owners, Chris and Paige, friends. They are an inspiration. I have learned a great deal from them on how to integrate re-claimed and recyclable materials into my art and the products that revolve around it. Below is a little more about them.
Santa Cruz natives and husband & wife team, Chris and Paige Curtis, inspire and bring to life all designs at their home in Aptos. Production takes place at their warehouse two miles away with the help of their team of employees. With roots all over Santa Cruz, the material they source -from mossy fences, old floor boards, barn wood, and anything else they can get their hands on- is 100% authentically weathered, recycled, and thoughtfully repurposed into sustainable goods for the home. 


Chris and Paige are deeply inspired by their natural surroundings; the forest, the sea, and the art of slow living, fuels their inspiration and love for what they do. From picture frames to custom farm tables, each product is thoughtfully designed, hand crafted, and usually made to order because these two believe that good things are worth waiting for.  -------- See more at www.thealibiinteriors.com  and follow their Instagram for latest products, updates and events.

 
One of a kind
Upon printing and proofing your gicleé, I flip through every frame and try to match up qualities in the wood with a particular aspect of the artwork. Some frames have a bit of paint on them, some nail holes. Some have a patina of texture from years of salt air moving off the Pacific Ocean. All are one of a kind. I may pick a prominent grained frame for a halibut to go along with the waves of sand that the fish is commonly found on. If you've ordered a dorado, I may pick a frame that has a bit of green lichen growing on it to harmonize with the color of the fish. I enjoy doing this because it really makes the artwork shine as well as making each framed print unique. 
We try to offer most of my artwork with framed options. Start here.
Amadeo
Leave a comment
Comments will be approved before showing up.
---
Also in Artist news, events and demos.