A new look for Studio Abachar, a new look for the website.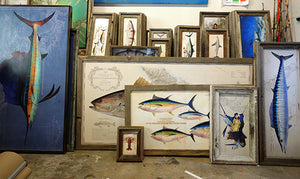 For those of you who are returning to you may notice a completely different look.  My goal was to make it much easier for you to view all my artwork as well as provide a full catalog of all the products featuring my work. So... what's new?
Each print has multiple variants including small framed giclee's in weathered wood frames. We're really excited about these frames. They are made locally by Alibi Interiors.  Since the shop is local, this allows me to go through the stock and pick out the wood with the most character or best match to my artwork.  Because of this, I'll be offering a "Specials" page where you can view some of the very unique frames I have in stock paired with the most fitting artwork.  
Where applicable, we'll also be offering large gallery wrap giclee's for those of you who have a larger space to fill and want more impact. 
We are offering many more hat designs covering all regions of California and some for you east coast anglers.  Our goal is to expand the hat and apparel line into waves of limited editions and special on off printings. So if you see something you or a buddy may like, grab it up, as we may not run that print again. 
This site will also allow me to blog nicely.  While I'm not much for words, I will try to keep this updated with latest events and showings as well as integrate some step by step lessons and process pics for those interested. 
Thanks so much for the support to get my artwork to this point.  I illustrate, draw, paint to explore my curiosities and experiences, but really it's for you all to enjoy. 
Amadeo
Leave a comment
Comments will be approved before showing up.
---
Also in Artist news, events and demos.